FREE SPIRIT


Covenent House Florida


Missing Children


Make a Wish Foundation

Adopt An Angel


On the street I saw a small girl cold
and shivering in her dress
with little hope, of a decent meal.

I became angry and said to God:
"Why did you permit this?
Why don't you do something about it?"

For a while God said nothing.
That night he replied quite suddenly.
"I certainly did something about it.

I made YOU".
I was told of the writing above by a very caring friend. The writing and a request for help was sent to him by Covenant House Florida. I had been looking for just the right thing to start out my "Free Spirit Page". Thanks to Sister Mary Rose McGeady I found just what I had been searching for.

Covenent House Florida
P.O. Box 39282
Coral Ridge Station
Ft. Lauderdale, FL 33339-0282

Her letter was written as such:

I kind of wish God could write you this note. I mean, I know you and I have never met, and I despiritely need to meet you right now.
I'd love to know what God would say to you if he were in my position. I would love to see what he would say to convince you to help the kids in my crisis shelter.
"I really need you to read this note", he would probably say. "Some of my favorite kids in the whole world need your help and I think you're one person who would want to know about these kids and help them".
God knows I need your help right now! Last night we packed 1,200 homeless and runaway kids into our shelter. And I'll see 1,200 more tonight!
Please, could you help me feed and clothe and care for these kids? Please! The need is urgent.

Thank you for helping, if you can.
Sister Mary Rose McGeady
President of Covenent House
---

This Java Applet Banner will run continuously,
displaying the 13 Missing Children Alert Cases.
Clicking on the photograph will bring up the
Alert Page with more information, and the ability
to print posters. Clicking on the Yellow Marquee
Message will connect to the NCMEC home page.
The image seen will change every ten minutes.
Currently the 12 most recently reported missing children
are kept in this queue. Clicking on the NCMEC logo will bring
you to the home page; clicking anywhere else will bring you to
the full details of the missing child's record. There is also
included a link to view the entire queue of 12 children.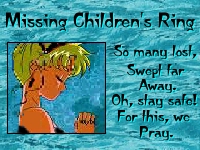 This
Missing Children's Ring site is owned by Cuddles2.

Click for the
[ Next Page | Previous | Next 5 ]

Want to join the ring? Click here for info. These ring graphics created by Maeve
A most wonderful, kind and generous soul!
If the Ring is not working you may click HERE
This will take you to a listing of all the ring members
with links to their sites so that you may surf them.
"Please help to support the "Adopt A Guardian Angel" program. By doing so you are virtually taking the hand of a neighbor and joining us in creating a never ending circle around the world that will empower us to stand up and be the voice for all children of this planet! Show them we care enough to make a difference! In reality, by displaying this link back to our site you are helping us to meet our goal of creating awareness, education, recognition, prevention and intervention and that is the first real step towards breaking the cycle of abuse and stopping all forms of maltreatment!-Thank you for your support!"