ALL CREATURES GREAT AND SMALL

Below are the phtographs of my pets and my friend's best buddies.
If you have a photograph of your pet that you would like to have on this page
please send it to: webmaster (that's me!!)

CUDDLES2

My newest additon



EBONY ROSE
Rose is a Black Egyptian Arabian mare.
She is 4 years old and being trained
by a wonderful horse trainer.
See their website at:
KEY
Hummmm, now lets see
I do a net search C A T
and then
Key got his name because since
I first got him he loves to be on my keyboard.
There is a certain place that he sits and
the computer will make dinging noises. He loves
to do this and also loves to sit
on my space bar when I'm trying to type!!!!
---
AND

INDIGO
my cat


WHEW!!!! This net search sure turned up a lot on
"BIRDS", click, click, click
Indigo came to live with KEY and I on
December 26th, 1998. It may be a long time
before each will have their freedom of the house
at the same time. Right now KEY feels
pretty safe in his cage, even if it is behind bars.


GEMBUNNY'S
PET OF THE DAY...
ON OCTOBER 4th, 1997
http://www.petoftheday.com/
MAX





JOHNM'S




RED & PAL






LANDSCAPE'S


MUFFY MIRA



BABY, CARLEY & MISTY


MISTY





MYSTAR'S



MISSY






TRACER2'S


SHADOW






DOC'S
Click on Doc's above to go to Doc's Home Page


MAX




Click on paw above to go to Max's very own Home Page






FLINT



You must love animals or you wouldn't be visiting this page.
Please take the time to read "Flint's" story.
I think it will move you just
as it did me.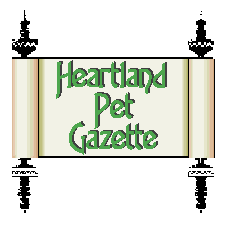 The Heartland Pet Gazette is a link to a site I know you will all
enjoy tremendously. Please do visit it. It's one of my favorites!!!!!




| Home Page | Our Heros | Chat Friends | My Art | My Poetry |
| Friend's Home Pages | Words Of Wisdom | Awards |