This page was last updated Sunday, October 5th, 1997
My counter has been moved to the bottom of my page.

I hope that everyone who visits will enjoy what they see. I'm sure my page will be changing from day to day as I learn new things and share them with you. So be sure to check out all the links on the page. And please don't forget to sign my guestbook, it's
located at the very bottom of this page.


My name is Nancy

(click gold ball to see photo)
My Home is in Wichita Kansas











---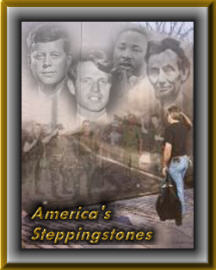 This is my link to my page called "Our Heros". It's fitting that the men who set the standards for freedom lead the way to a page of American Heros. I know every American feels the same pride in our fighting men that I do. Please take the time to visit this page.




---

Princess Diana
July 1st 1961 - August 31st 1997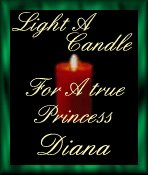 I put this "special" link on the top of my Home Page for a reason.
The linked page was created by, Guinevere (Ingvild), and is a
beautiful tribute to Princess Diana. To all those who loved her
and I can't imagine anyone not, do visit this link. It is beautiful.
Princess Diana did so much good for sick and terminal children,
for the aids patients, for so many. Her compassion was shown in
her face, her reaching out of her hands, in every motion. To her
children, and her family I wish to express my own sincere sorrow
at the loss of this beautiful woman. A woman whose beauty shown
not only outside,but inside as well. She will be missed by many,
as she was loved by many.........Nancy
---
Don't forget to sign the guestbook below, or click here to access

---

Click on image above to go to my FREE SPIRIT page with information about "MISSING CHILDREN LINK" as well as other worthwhile organizations.
Please take the time to .




---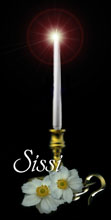 Please click on candle and say a prayer,
leave a kind thought, and a loving wish for Sissi.
The power of prayers works miracles.

I'm happy to report that Sissi is doing much better.
A miracle the Doctors say, thanks to the many many prayers she's received.


---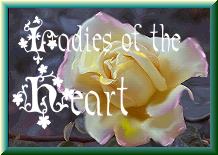 <!- BEGIN LADIES OF THE HEART-->


Don't give up, guestbook is below, unless you want to click here
---

A member of
The HTML WRITERS GUILD

---

I am proud to be a member of Web Prestige.



---
Global Directory
Yahoo Quick Search
---
Download McAfee


#1 in Virus detection and removal. Download your copy of VirusScan Now
---
---
I have 2 guestbooks that I am trying out. Please let me know which you feel is the most convenient one to fill out. And then again, I may keep the both of them. But do, please, sign one..



Please sign this guest book or the one below, Thank you
graphic (c) Kitty Roach to come back and see me sometime. Remember, to always reload this page if you have it bookmarked so you'll get the latest update. And thank you for coming by!!!!!!

---
Space for this web page is provided as a service to Tripod members. The contents of this page are the responsibility of its creator, not Tripod, Inc.

---